As you know, all installed applications with which you can work on the network accumulate a cache. So that the device's memory does not fill up, and there are no problems in performance, you should clean up the history. Read more about how to clear cache on Kodi in this article.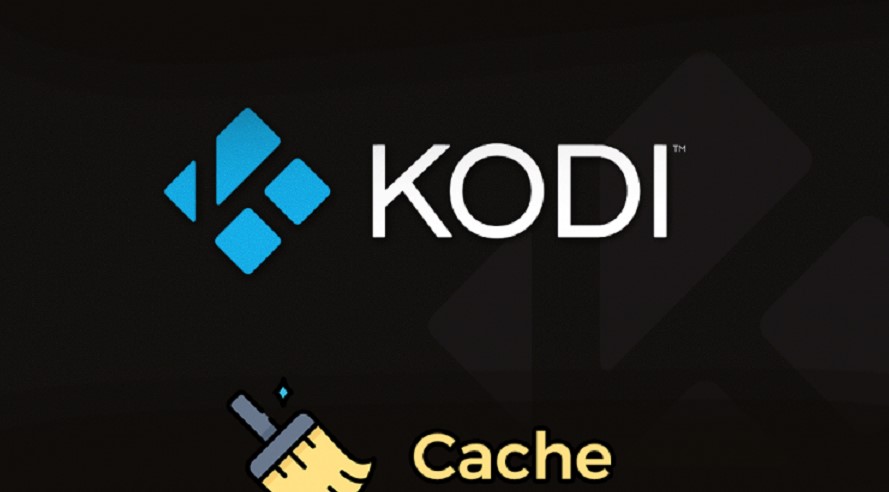 What is Kodi?
Before proceeding to study the question, of how to clear cache on Kodi, you should familiarize yourself with the operation of the application. Kodi is a free multimedia center where we can organize all our video, audio, or game content in one interface.
You can use content that is stored locally on your computer, but you can also get content from the Internet. And besides, it allows you to add maintenance tools or add-ons that make it completely customizable.
You can turn your computer into a multimedia center for playing music, videos, or pictures, and it is compatible with most of the existing formats. It's easy to use, intuitive, and licensed under the GNU/GPL, so anyone can add new features.
You can use it on your Windows computer, but also on Linux, Mac, Android, iOS, or Raspberry. Kodi is completely legal. Its full or partial legality depends on the add-ons you install and how you intend to use them.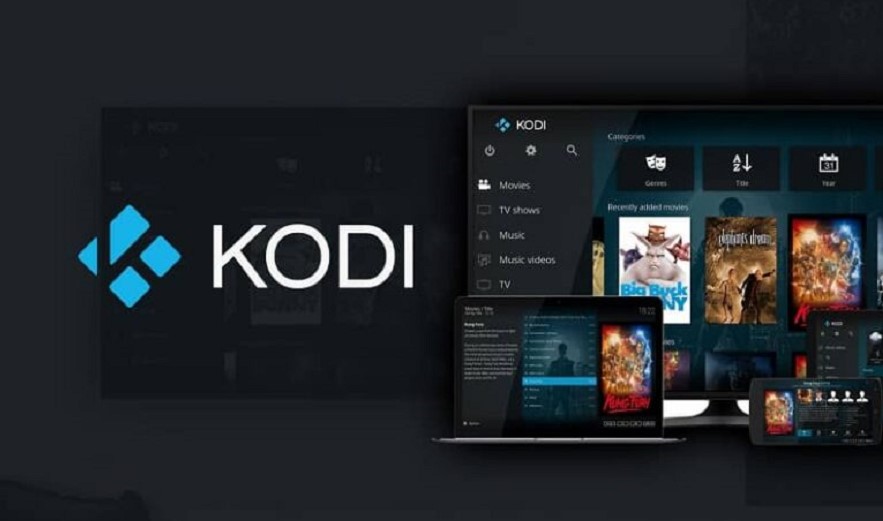 How is the cache filled?
Kodi is a multimedia center. We may play content locally or from other devices or from repositories and plugins that allow us to have more sources or more things to watch. When we see or search for different content, we leave a "trace" of all images, widgets, and covers.
The Kodi cache is filled and information about the videos you've already seen, the music you've listened to, and everything you've done is saved.
Or with thumbnails saved for the Kodi catalog, for example, which allow you to switch from one video to another, from movies or channels that you have added from other sources.
Not only when watching videos, but it usually stores temporary operation logs, temporary files, or "leftovers" when installed in Kodi. Kodi cache also stores all the images or covers that you see from the media center.
You accumulate content until you fill up your memory and slow down the playback or make navigation difficult.
The principle of Kodi cache is quite simple. If you often go to a certain resource, then after that it is enough to enter its first letter in the search bar, and the browser immediately offers to go to a specific site. The more frequently you visit a site, the faster it will load in the future.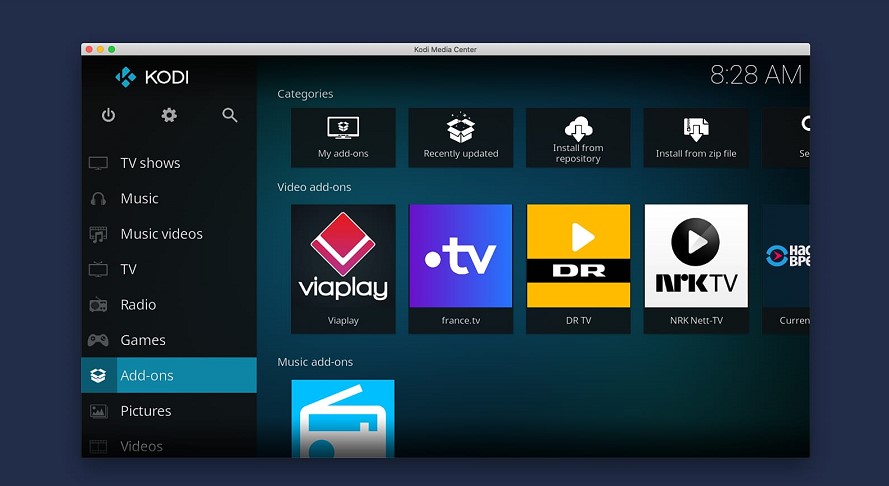 Varieties of Kodi cache files
In the process of using resources and the installed applications from the zip file, different types of files can accumulate, and Kodi is no exception. Here you can find several types of Kodi cache files.
Temporary Kodi cache files
The term temporary files refer to a cache of old folders, including archives and add-ons for updates. You will no longer use such files, so they may be perceived as garbage.
Video Kodi cache files
When you upload a video or more videos in the zip file, it accumulates in the cache. If you want to watch it again in the future, you won't have to download it from the server.
The file is opened from the cache. If you start a new video, the cache data is transferred to the background.
Additional Applications
As you know, periodically Kodi needs new applications. All your actions are cached. This is a bit like the principle of applications that are installed on Android.
Images
When searching for titles, the web scraper assists in extracting images that are related to a given title. After all, the images accumulate in the Kodi cache. If you want to clear Kodi cache, you must delete an unnecessary file or more images in the zip file.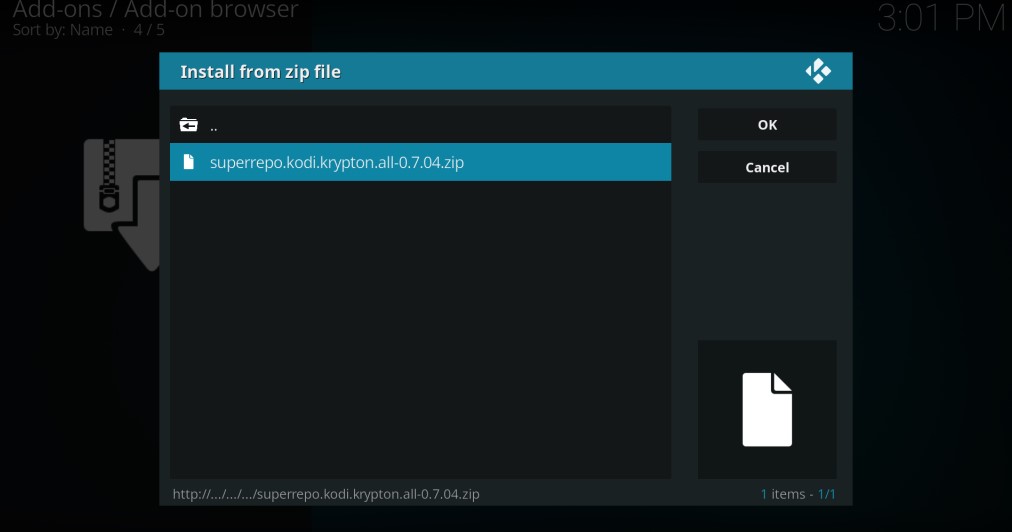 The need to clear cache on Kodi
All data that is accumulated in the own cache is terminated in emergency mode. The importance of the cache depends on how much memory the device has.
If you start downloading a file from the Kodi cache over time, then the work is much slower. To speed up access, you should clear cache on Kodi.
This suggests that in the future, the RAM of the device will not wear out. And you do not have to constantly spend money on buying a new device.
Yes, caching is a pretty good thing because the installed applications have a place to store the files that are most often used.
In the case of Kodi, this can cause many problems and crashes. It is possible that you encounter error messages and all downloads will be weak. Clearing cache helps get rid of such troubles. Especially if you use devices that have limited power consumption.
Often, errors can pop up while watching a video, which causes some inconvenience. To clear the error message, clear cache on Kodi. Only then you can continue watching the video. There are a few ways to avoid this problem completely. More about them will be discussed a little later.
The cache is tied to RAM, not to physical storage. Therefore, you cannot find the folder and delete all its contents to clear cache on Kodi. It is more expedient to use special add-ons that have to be downloaded in advance.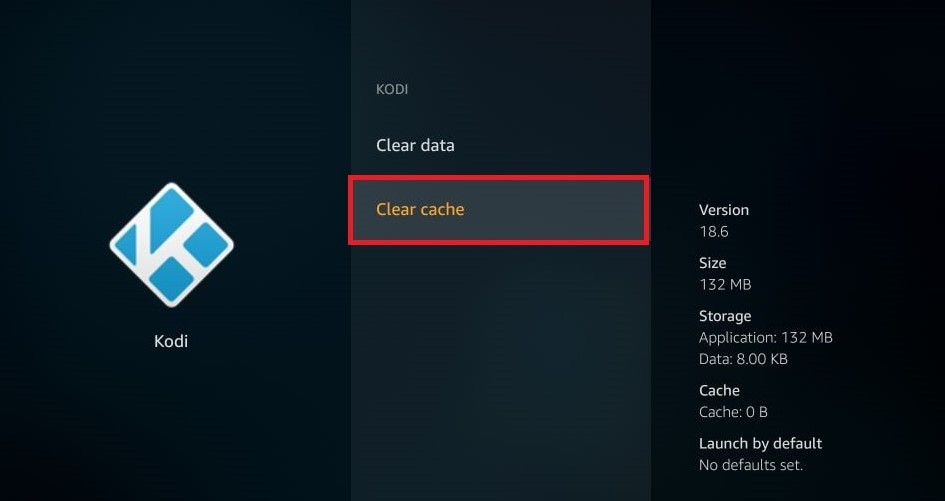 Kodi stream security over VPN
As you know, all users want to use the Internet confidentially. However, this is extremely difficult to achieve because providers all the time find ways to track customers.
After that, they collect all information about users and begin to distribute it without the consent of customers.
The Kodi app is attracting increased attention from politicians and legislation. Therefore, ensuring confidentiality and anonymity is extremely difficult. When information is being streamed, security is at risk.
To prevent this, it makes sense to use a VPN. The app encrypts your data and hides your identity.
It does not matter what devices and applications you use. A secure tunnel is created between you and the network.
IPVanish – Best VPN for Kodi
One of the best VPNs for Kodi is IPVanish. The application provides an optimal balance of speed and security. It works with 850 servers located all over the world, and you can choose any of the 60 available countries.
The connection to the server is fast and there are no delays. This is the best solution if you need to bypass censorship or watch a movie that is not available in your region.
This provides about 40,000 shared IP addresses, which increases anonymity on the network.
Another important advantage of IPVanish is that it guarantees privacy to its clients. All personal data of users are encrypted with a 256-bit code.
For protection, local features are provided, including DNS leak protection and a circuit breaker in case of an accident.
If the data is transferred from your device, with IPVanish you can prevent other people from viewing it. This is because the application operates on a zero-logging basis, which covers all available traffic.
Yes, the VPN in question is paid. However, the creators provide their customers with a one-week money-back guarantee.
That is, you have the opportunity to test the application, and if there are any problems, the money is returned.
If you subscribe immediately for 1 year, you can save up to 60%. In this case, the cost of monthly use is less than $5.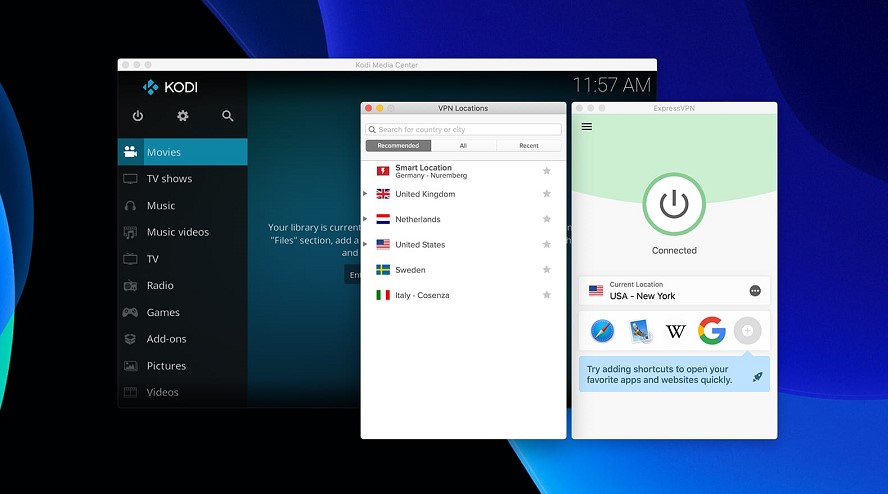 Download add-ons
Kodi does not have its own cache-cleaning tool.
You can't do this from the program itself, but you have to install a series of add-ons similar to the ones we use for the browser, and with them, you can clear Kodi cache whenever you need it.
It can feel like a mess and a complicated preparation process if you're not used to using Kodi, but it only takes a few minutes.
When you do this for the first time, you have to download the program add-ons, but once you have them, you only need to click on a couple of buttons to set up cache deletion.
The first thing you should take into consideration is what maintenance tools you can use to clear cache on Kodi. You need to download them from the program add-ons, and then we put them into operation.
The walkthrough is made for Kodi 18 Leia, but you may find other lighting features in other versions, although usually the route or steps are very similar.
It is possible to use Exodus to clear Kodi cache, but you can try alternative tools if that doesn't convince you.
This application is one of the best because it is very easy to use to eliminate memory if we don't want to complicate ourselves.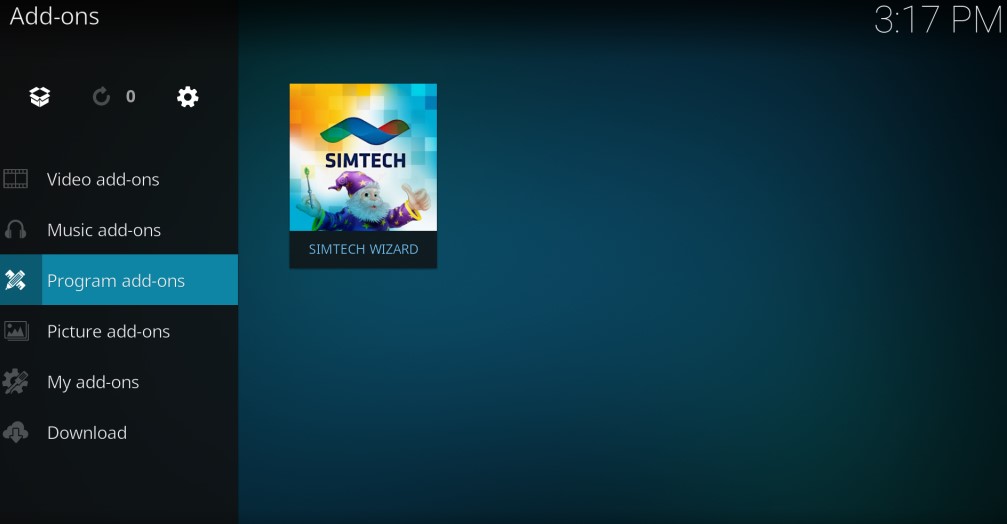 Clear cache with Exodus
Exodus is one of the most interesting Kodi cache-clearing tools or simpler, so we recommend it for this mission.
It's easy to install and simple if you want to clear cache on Kodi.
The first thing you need to do is download and properly install it on Kodi as an add-on.
To do this, we need to go to his GitHub repository and download the file to our computer.
Once you have it, we can install it from Kodi.
Open Kodi Home screen.
Go to the "Add-ons" section on the main screen.
Select the package installer icon "Install from Zip File".
Find the drive where you saved the previously downloaded file.
Select a zip file on your computer.
The repository containing Exodus is installed.
Return to the previous screen.
Click "Install from repository".
Go to the video add-on.
Select Exodus.
Click on the package installer icon to complete the installation.
Once you have Exodus, you can use it to clear cache on Kodi.
Go to "My Addons" from the Kodi Home screen.
Select "Exodus" and you see all available options.
Go to "Tools" to choose what you need.
Click on the "Cache" function where you find the tools.
Open this section. Select one of the options to clear Kodi cache.
Click on "EXODUS: Clear cache…".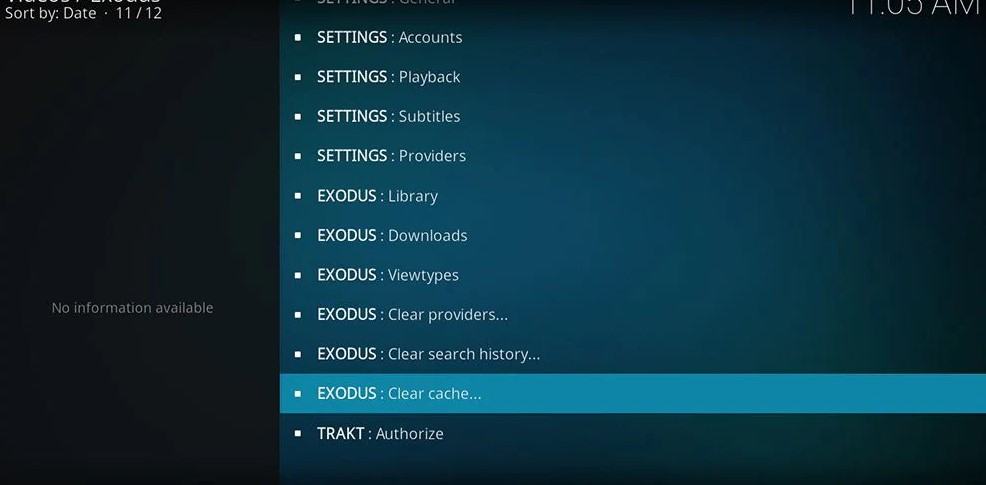 Cleaning with the Looking Glass Wizard
You first need to install the add-on.
Installation is quite simple, subject to some important rules, namely:
Go to settings, and open "File Manager". After you need to open "Add source", and cancel the process.
Specify the address "http://repo.lookglass.rocks/", and give a name.
Go to the main screen, and decide on the add-on. Select "Install from archive".
After that, you have to decide on the source of the mirror and select the desired archive file.
Select "Install from a repository", then click on "Mirror". In the end, select "Application Add-ons", and "Mirror Wizard", and click on "Install".
All that remains is to open the add-on, go to the section with cleaning tools, and click on "Clear cache".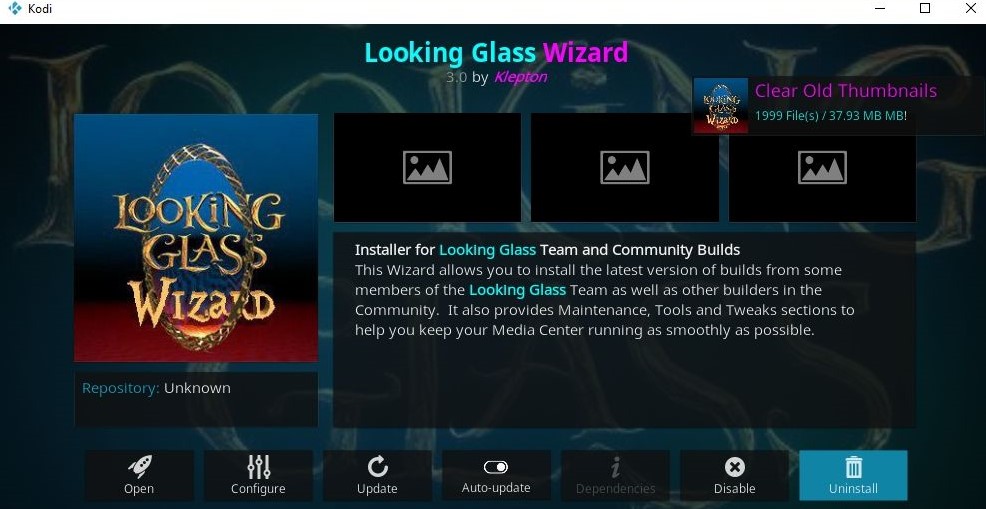 If this version of the application does not install on your device, you can choose another add-on. For example, Indigo.
Clear cache through Indigo
This is a very popular add-on that was developed by TVAddons.
Inside the application, some maintenance tools can install program add-ons.
This will be clearing cache much easier. Principle of operation:
Open Kodi and go to settings. You need to open the "File Manager". And then you have to click on "Add Source" in the "File Manager".
After canceling the offer, enter the source address fusion.tvaddons.co, and give it a name. Confirm action.
Go to the main menu, and open "Add-ons". Then you need to click on the item "Install from archive".
After that, you have to select a file called "XBMCHUB". For ease of selection, use the search.
Thereafter, you have to select "Install from a repository".
Open the installed application, and in its tools, select the "Maintenance" item. In the end, you require to click on "Clear cache".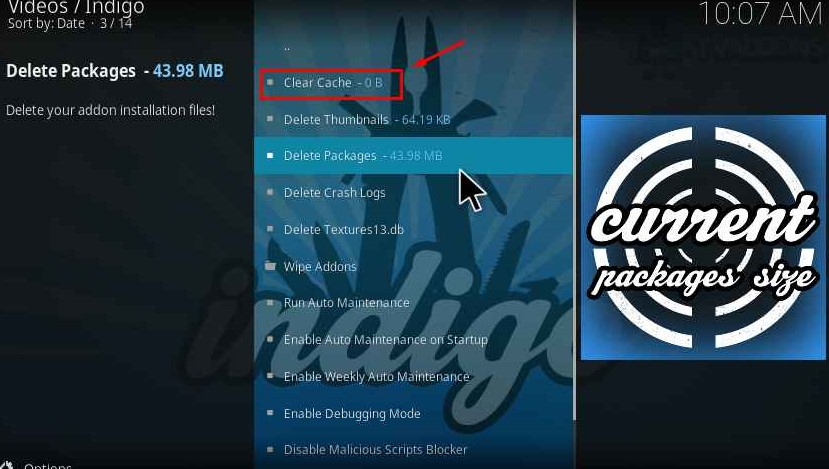 Cleaning with Ares Wizard
This is also a very popular add-on that helps you quickly and efficiently clear cache on Kodi Home screen.
First, you must install the add-on itself, using the same principles as in the previous options.
Installation must be through the archive.
The source is taken from the address "http://androidaba.com/addons/".
It should be named "script.areswizard-0.0.69.zip file".
If everything is done correctly, the wizard will be installed automatically.
After that, you need to go to the "Additions to the program" section.
You have to select "Maintenance", and click on "Clear Cache".
This will delete thumbnails and packages, as well as temporary files.
For the process to be completed exactly, and for you not to encounter problems when watching movies or videos, it makes sense to restart Kodi.
Clearing Kodi cache on a Windows computer
Often, Kodi is installed on computers where the Windows operating system is installed.
You can clear Kodi cache much faster because you don't have to download additional hardware.
You need to simultaneously press the Win and R keys, and then enter "temp" in the window that appears.
Next, open the folder and delete all files from it.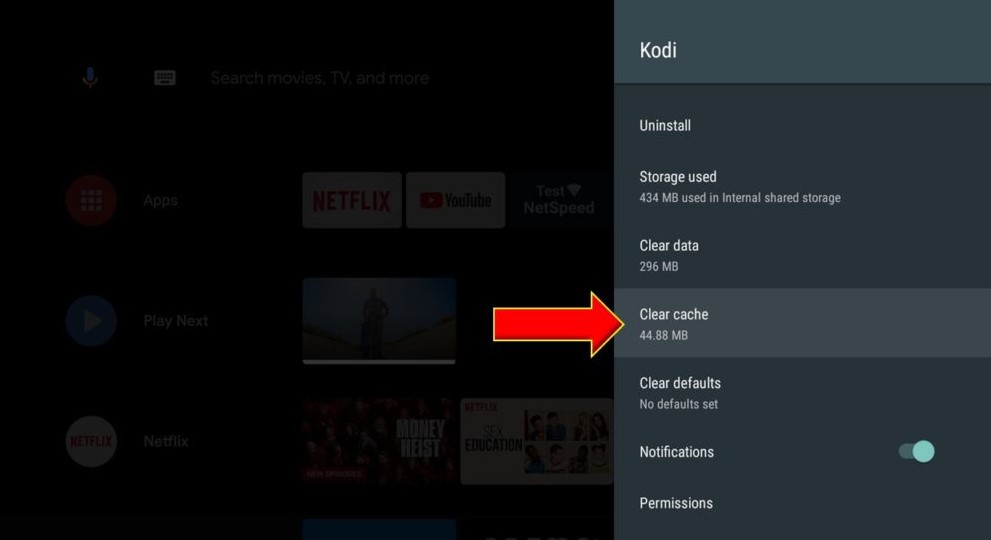 Clear cache on Android and TV Boxes
In this case, you need to go to the settings section and select Kodi in the list of applications.
Open the vault and clear the cache.
Clear cache on FireStick
Such applications have little storage, so the memory will constantly get clogged, and you need to clear Kodi cache.
To do this, launch FireStick and go to its settings. Select "App" and go to "Manage Applications".
In the list of applications, you have to select Kodi.
The size of the cache is displayed on the right. You must click on Kodi and at the very bottom select "Clear Cache".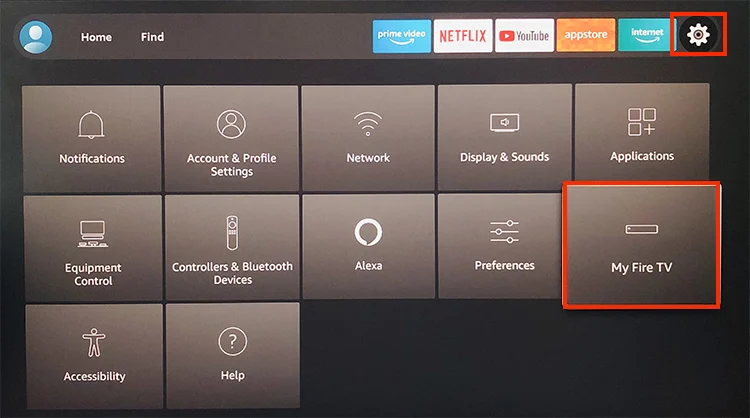 Clear cache manually in Kodi
A repository is required in this case.
First, you need to download Super Repo to your phone or computer in the archive.
Then open the Kodi app and click on "Add-ons". At the top, on the left, a rectangle will appear, which you should click on.
Select "Install from archive", and select the desired file.
Then wait for the installation to complete.
Next, click on "Install from repository", and select "Krypton V7". Select "Repository Add-ons", and install the add-on.
Finally, open "Add-ons", and click on the package installer icon that looks like a box.
You need to select "Additions to the SuperRepo All program". Select "Merlin Repository", click on "Merlin" in the list, and confirm the installation.
All that remains is to open the "Additions to the program", select the wizard, and launch the toolbar.
A list of tasks appears on the window, and you need to select "Clear cache". If you follow all the steps, the data flows are carried out without delay.
FAQ
When it comes to the Kodi app, there are many questions that you might encounter. The answers to how to clear Kodi cache and other questions will be presented below.
How do you clean Kodi addons?
You need to open the list and select the desired option.
What does clearing the cache do?
Clear cache means deleting all temporary files that were loaded into the browser.
How do I delete my watch history on Kodi?
If you want to clear cache, you should open the "Settings" item, and select "Library". Select "Clear Library" from the menu.
What does clear data on Kodi mean?
This removes all sources and program add-ons of the application itself. For their further use, you have to add everything again.
Conclusion about clearing Kodi cache
As you can see, you can clear Kodi cache is not difficult if you worry about installing special program add-ons in advance. You can clear cache simply, and it does not take much time, and you can then watch movies and videos without errors.