As you probably know, Kodi was developed to be applicable to most available HDTVs and computers. That's a tremendous advantage. But for that exact reason, it sometimes needs some adjustments to fit your TV and to operate at its best. For example, its screen size can be too big for your HDTV. And here we come to help.
Kodi is an entertainment center and a media hub at the same time, which makes it really convenient. Kodi is absolutely free and easily customized. It's an amazing package designed to provide you with all the digital media. All of it is in the same place.
Kodi can run on numerous devices, which makes it adjustable and very expedient.
It has already generated a big and dedicated community.
You can use it with various OSs, including Windows, iOS, Android, Linux, macOS, OSX, and tvOS.
Kodi provides an opportunity to watch most videos, music, and podcasts, use other digital media (including social media) and the Internet, as well as to play games.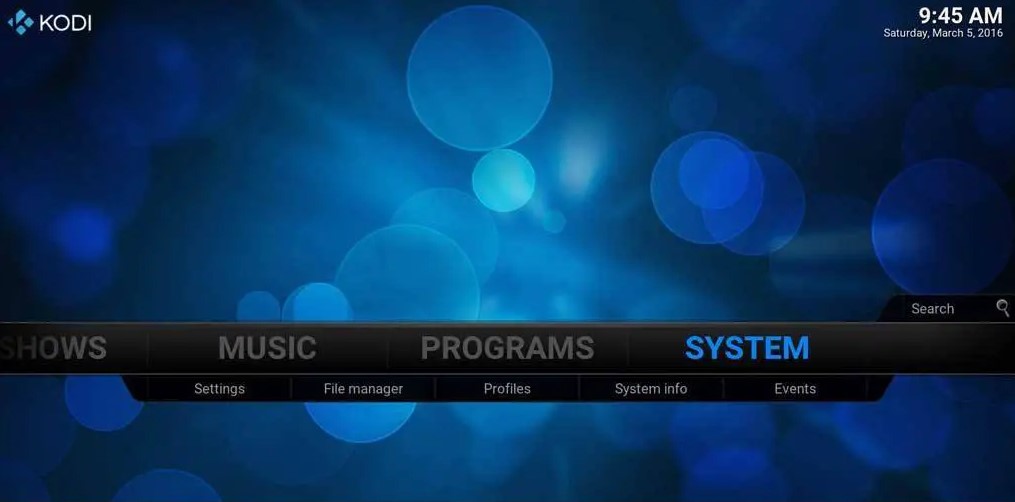 Too big for my screen
As you have read at the beginning of the article, Kodi was designed as an almost universal software media player and entertainment hub. That comprehensiveness can be the reason its screen size doesn't fit the screen of your device.
It can be quite irritating if you want to watch a movie or play a game.
But this issue is fixable, you don't need to worry.
Let's deal with the screen size issues right now. Then we'll tackle several associated issues as well.
Adapting Kodi screen to your TV screen (or computer screen)
Steps to take
Begin with starting your Kodi.
Go to the Settings Menu and select Display. You are going to operate in Display Settings.
Now you need to turn off HDMI Auto-Detection.
Then you need to go to the Settings menu of HDMI Output Mode Settings.
Here, you select the resolution you want. The basic option for HDMI Output Mode Settings is 1080p-50Hz. But if it's not applicable to your TV, select a suitable available option.
Now you can adjust the display by going to Set Display Position. Adapt the display to the screen size of your TV screen.
Then on your Home Screen (Home Button – to return there) enter your Kodi device. To do that, you'll need System.
When you are in the menu, you'll need System again.
In the bottom-left corner of the TV screen, you'll find Settings Level. This should be set to Expert.
Then, in the top-left corner, find the Video Output menu.
To adjust the screen size, choose Video Calibration from the menu.
The Video Calibration option allows you to adjust the Kodi screen size for your display device perfectly.
From now on, the display settings of your Kodi and display device should be in sync.
Full-screen mode
Full-screen mode is often preferable both when streaming movies or gaming. Let us show you how to do it on Kodi.
Steps to take
Start by going to Settings on the Kodi Home Screen menu.
Select Video in the Settings.
Choose Full-Screen mode.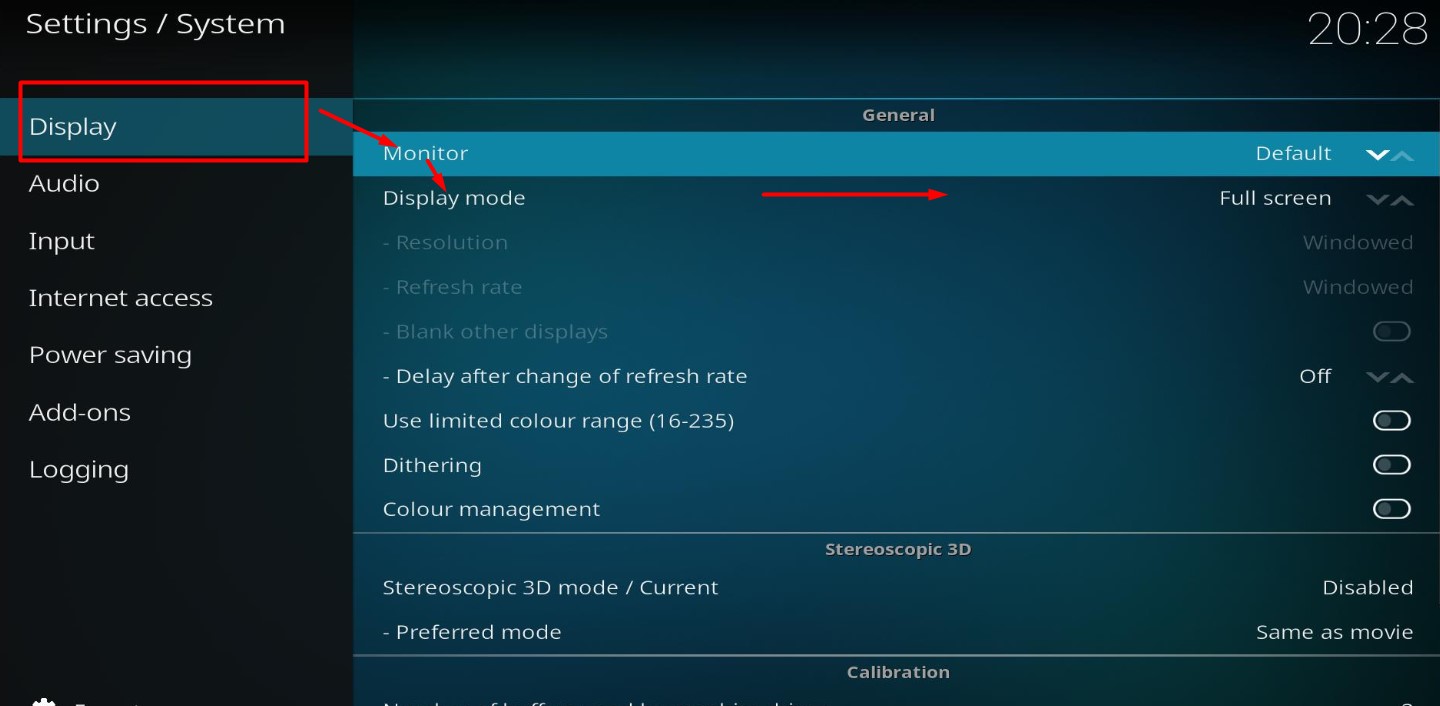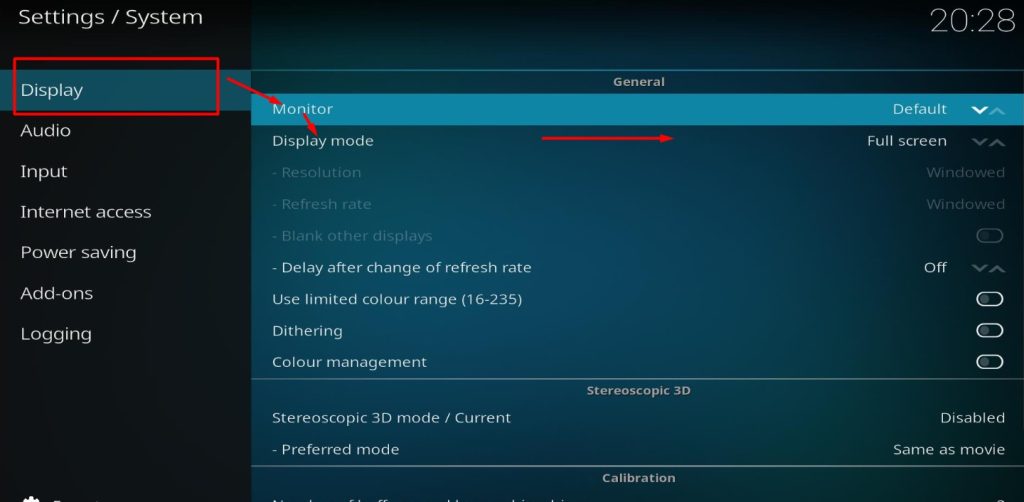 Full-screen window
You can use this option without setting a full-screen mode. This option applies to MS Windows. Its advantage is the possibility of simultaneous use of several applications if you go for multiscreen configurations. It actually prevents Kodi from reducing the screen in case of focus loss.
TV's movie full-screen mode
For those who enjoy their movie nights with a TV screen size as large as possible, switching to the full-screen mode is a great option.
There is an Aspect Ratio button on the TV's remote that will help you with display settings.
It can be called Wide or Zoom button. And in some models, it has an icon on a screen with arrows.
Steps to take
Just use the Aspect Ratio button to scroll through all available modes and adjust the width of the screen according to your preference.
TV's HDMI full-screen mode
If you want to select HDMI full-screen mode on TV, you need to do it in the Display settings. To do that, select Display Settings by right-clicking on the Desktop. In the Display Settings, you can choose the resolution you want. Then go to the Scale and Layout section.
In the Scale and Layout section, you will see if the layout is currently at 100%. If so, adjust it, for example, to 200% if there is such an option. Otherwise, go for one of the available options.
Disabling the Kodi full-screen mode
If you want to disable the full-screen mode, you are literally one click away. TAB will disable the mode and give you the opportunity to do other things while the video is playing on a smaller screen. When you are ready to return to the full-screen mode, press TAB again, and the screen size will be back in full mode.
Kodi aspect ratio adjustment
This ratio defines the relative vertical and horizontal sizes of the graphics. The most common aspect ratio for widescreen is 16:9 and for full screen — 4:3, where 4:3 is closer to a square shape whereas 16:9 is stretched into a rectangular shape. Here's what you should do to adjust the Kodi aspect ratio.
Steps to take
So on Kodi, we suggest setting a 4:3 aspect ratio.
To do that, go to Settings and select Player. From the Player menu, choose Video.
You'll see "Display 4:3 video as". Select Normal. If you want to check that setting later, press ALT+TAB.
Otherwise, this settings level won't be on display. Other options for the aspect ratio are Advanced or Expert.
TV aspect ratio adjustment
For some TVs, the settings level for the aspect ratio is automatically adapted. Check out if your TV has this function.
Steps to take
With the TV's remote, go to the Menu and check if your TV is in Auto-Adjust or Normal mode. If on your TV, the ratio is automatically adjusted, you'll most likely have the Auto-Adjust option. If it's in a different mode, select one of these options. It can be in Full-Screen mode, for example.
Then go to Settings and select Picture.
If your TV has this option, go to Overscan and turn it off.
Desktop screen resizing
Standard controls. Locating and setting
Steps to take
Select Picture in the menu of the computer screen (Aspect or Format, depending on the manufacturer).
In the Picture menu, choose one of the following (depending on the model): 1:1, Screen Fit, or Just Scan (which could be a different option for some models).
If you fail to succeed, or if the controls can't be located, read on.
Advanced controls detection
Steps to take
Go to Settings on the home screen and select HD Size or Display Area. It can be located in the Advanced Menu.
Test different options and select the one you prefer.
Adjusting video resolution
If you are not satisfied with the picture settings, you will probably have to fix the resolution, as it's responsible for the amount of detail you can see and the realism of the video.
Take the following steps on your display device, not on Kodi.
Steps
Go to Settings in the main menu of the device.
Select Display Setting or Screen Resolution. That depends on the Android version you are using.
Now you have to turn off the auto-detect HDMI mode and adjust it manually. We recommend setting it to 1080p 50Hz, but it's totally up to you. Take a look at the other options and fix your TV's picture settings.
Black bar problem
Narrow black bars can appear on the screen at the top of 16:9 videos. They are the result of the aspect ratio change. Some folks find them irritating but don't know how to get rid of them.
Try to minimize them by 10% – 15% and slightly zoom the picture manually. The edges of the frame will be lost, but the black bars will disappear. Overall gain.
Overscan on TV screen disable
Some folks find it problematic when the video playing on TV is 2% – 4% larger than the screen.
It's different from the full screen and prevents you from seeing the edges, giving the impression that the image is slightly zoomed.
If you see such a picture on your monitor, you are likely in Overscan mode. Here's how you disable it.
Steps to take
Go to the Settings of the user menu on your HDTV.
In Settings, choose Picture.
In the Picture menu, find the Overscan option. Some models don't have it, but that will mean that there's no Overscan mode on your TV.
Disable it by selecting Off.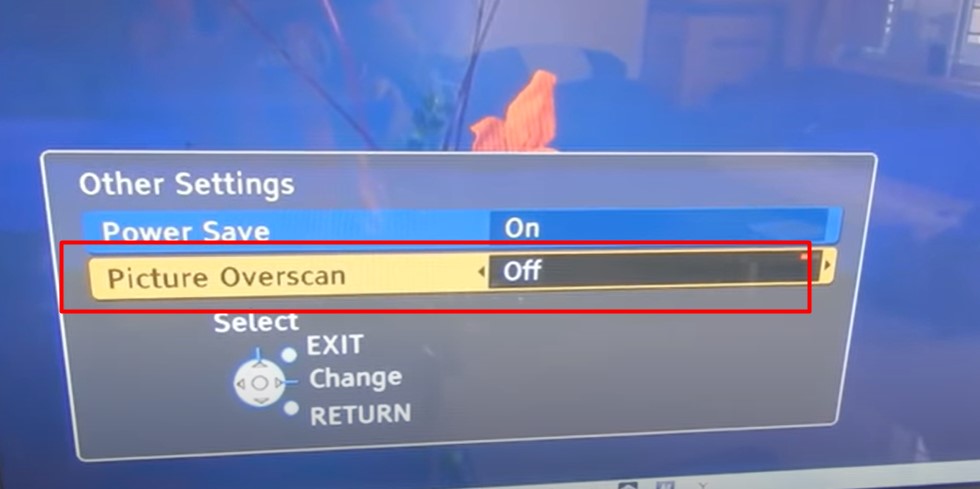 Conclusion
Kodi is not only a multipurpose hub that consolidates all your digital media, but it's also highly customizable and compatible with a great variety of devices.
That's extremely valuable, but the downside is that sometimes you'll need to make a few adjustments to ensure that Kodi and your TV or computer cooperate successfully and offer you the best experience of watching movies or videos, playing games, or browsing social media.
Frequently asked questions
How do I make Kodi fit my TV Screen?
This issue is quite common, especially with Android boxes. The TV or computer doesn't display the video correctly because the image doesn't fit the screen. To solve the problem, you'll need to take several steps.
1. Select Display Settings. That's where you're going to operate. To get there, select Display from Settings.
2. Next step — choose HDMI Auto Detection and disable it (Off).
3. Go to the HDMI Output Mode Settings and adjust the resolution to 1080p-50hz. If yourTV doesn't offer this option, select from the available ones.
4. Select Set Display Position. Do it by trying different options until you are satisfied.
5. Go to Home Screen (Home button on TV's remote).
6. Find Kodi and select System on its menu.
7. When you are in, select System again.
8. In the bottom-left corner of the screen, find Settings Level and select Expert.
9. Now go to the right upper corner of the Kodi to Video Output and choose Video Calibration.
10. Adjust the screen to your preference.
How do I adjust the screen size on Kodi Fire Stick?
An easy way to adjust the screen size is by setting your device in full-screen mode. The full-screen option will offer the optimal screen size.
1. In the Kodi Home Screenuser menu, go to Settings.
2. Select the following settings option: Video.
3. You'll be given several options. Your choice — Full Screen.
How do I change video-resolution on Kodi?
1. Select Display Settings from Settings.
2. Disable the auto-detect HDMI mode.
3. Set the resolution. Our recommendation is 1080p, 50Hz.