How to change background on Kodi? Maybe you would rather prefer to stay at home and watch your favorite film with your darlings? Kodi is the perfect decision if you doubt how to enjoy a calm weekend.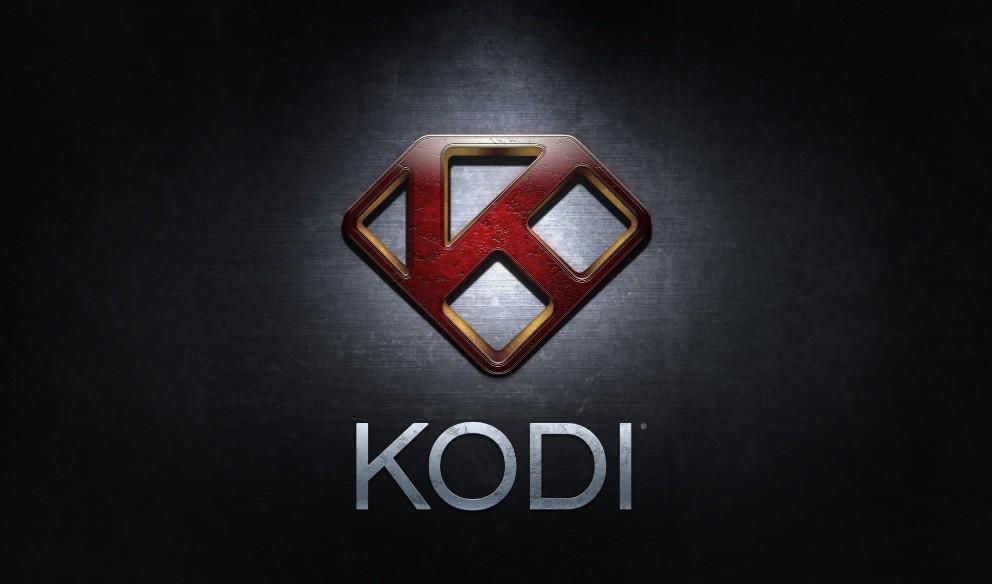 Kodi is an internet platform aimed at entertainment materials. Using the network server you can watch movies, web series, and news, also listen to music, play games, and other. This is a perfect and convenient way to have a great time and relax.
In this article, we want to help you to change Kodi and its basic appearance as you like.
Advanced features
If you don't like the style of the current Kodi background and skin, you can change the background wallpaper on Kodi easily to suit your tastes more.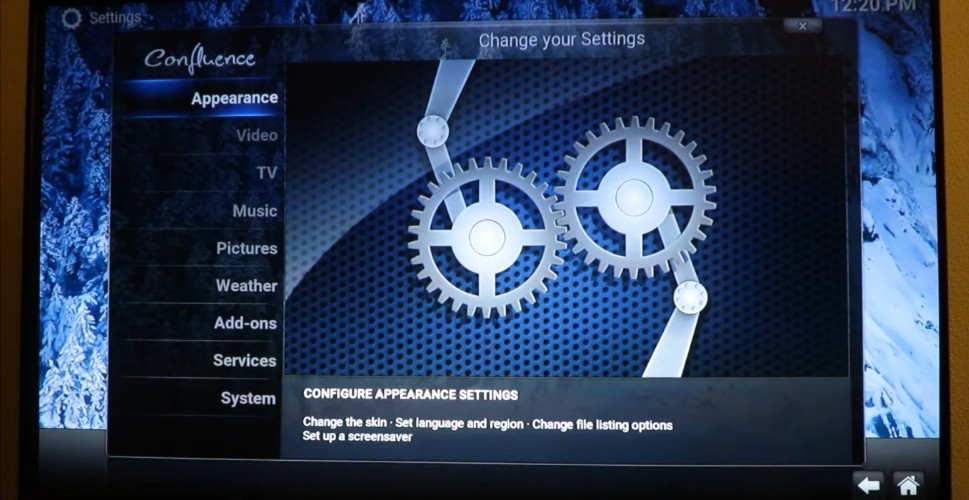 This user-friendly program allows you to edit the appearance of the screen. Also, you can change the background image, colors, and size by adding changes to the settings. The program lets you create its version of individual appearance thanks to Kodi skins. You can select a picture from the system storage or directly from your device gallery to replace the actual wallpaper.
Kodi skin is one of the most effective ways to customize your Kodi in several ways. This addition increases the level of user-friendly points and makes better the cosmetic appeal of the interface settings.
Change the skin, add-ons, and even the background wallpaper.
Change Kodi background wallpaper
Personalize the Kodi with a custom wallpaper or any other Kodi background image. For example, you can take a photo of your family, a photo of your favorite band, a photo of your dog, or just beautiful art.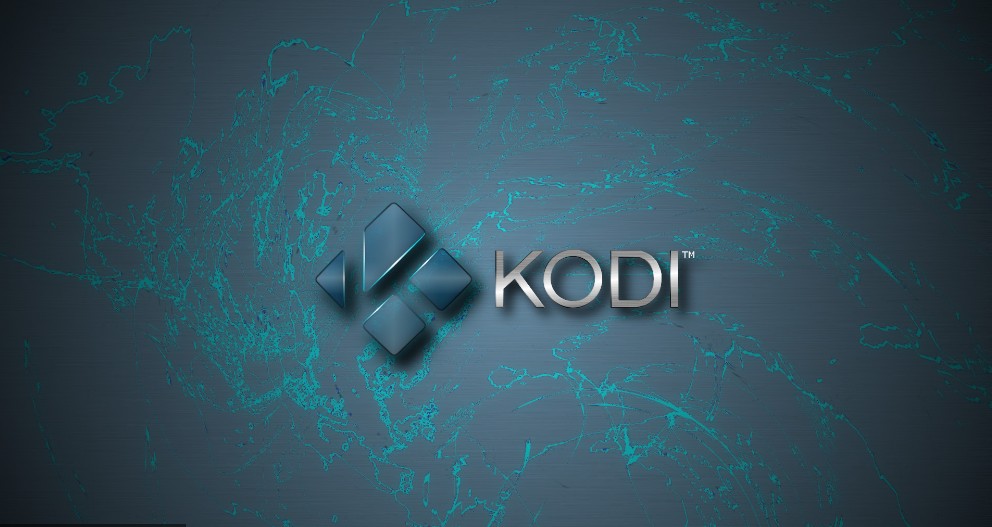 Going to the Kodi interface settings, you see the option for Background in the Appearance selection.
The program suggests you select a background picture or custom background with the photo you like by choosing your image from a file on your computer.
Open the Kodi Settings menu and then – the Interface settings menu. In the category "Appearance" click on "Background" under the Skin tab. You will see a few default background images. If you want to select the desired image from your computer, you should click on "Browse". Select the image by "Open", click, and change Kodi background wallpaper.
Change Kodi skins
Changing the skin on your device is very simple. Just need to follow the steps.
Open the Settings option in the main menu and go to Interface Settings. Select "Skin" and find the Configure Skin option there. You will get into the settings of Kodi's basic appearance.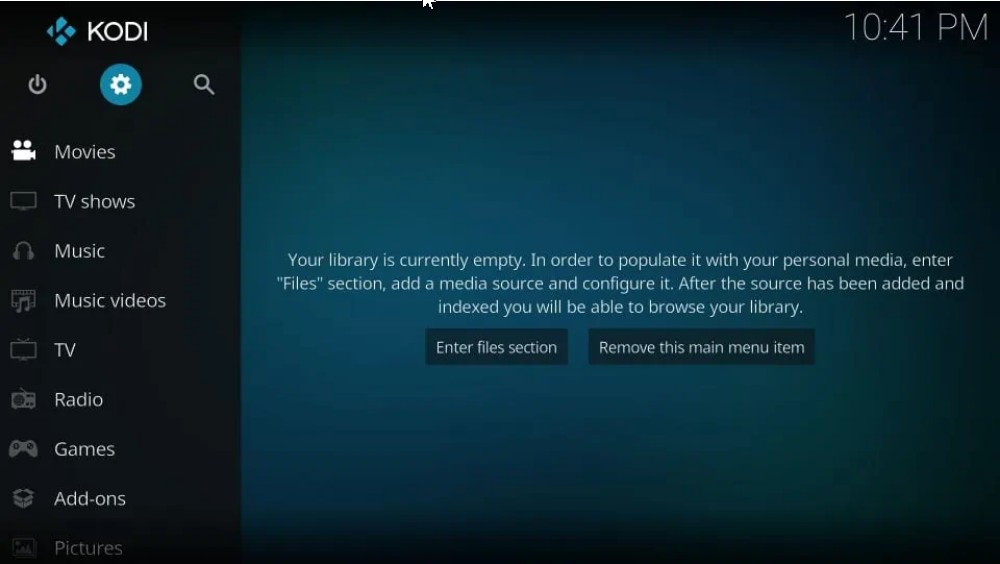 Click on "Get more" to select skin settings you want to see on your device. If the selected skin was not previously downloaded, this extension starts downloading automatically. The downloaded skin is ready to use. In the just appeared tab with the question "Would you like to keep this change?" click "Yes".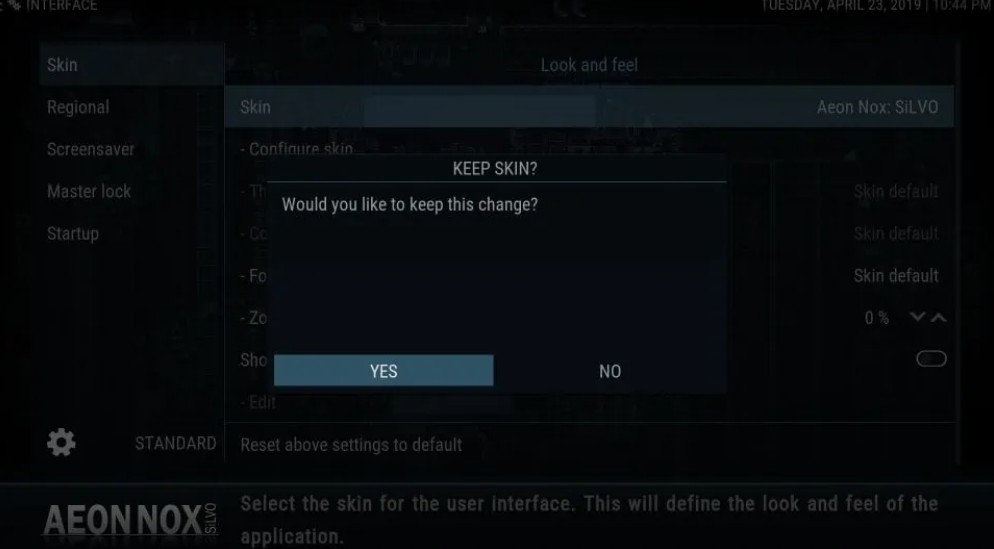 Please keep in mind that even if you applied the new skin to your device, you can upload your image for the background in the just-downloaded skin.
In Skin Settings, located in the main menu, next – the Home window and choose the "Setup the Aeon Nox main menu" option. Push on "Set Item Background" to see a new window of choices.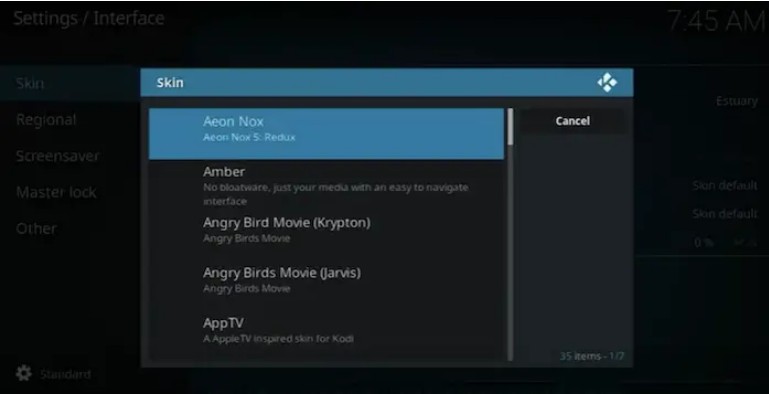 Set "Single image background" or "Multi-image background". You can also findother items like "Random fanart", "Random movie fanart", "Random TV show fanart" and others in Aeon Nox main menu.
Choose a multi-image background option for the fresh look of your program. They all change Kodi with custom Kodi skins with a variety of background wallpaper.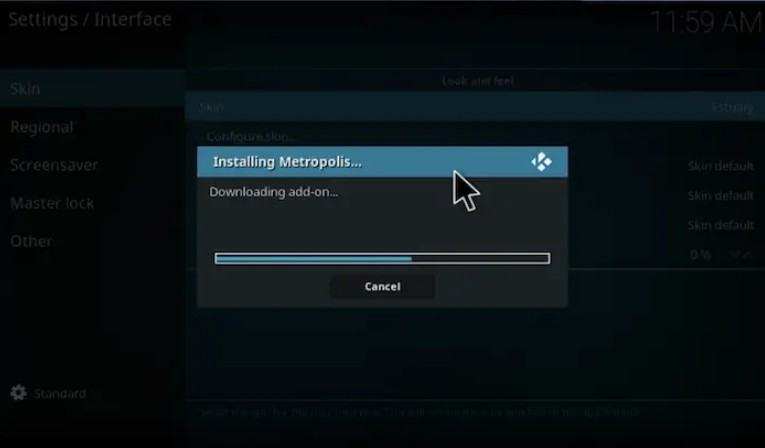 Select the path from the device and browse your folder. Key features of these settings let you custom Kodi skins.
Top Kodi skins
Below, we give some examples of skins that allow you to change Kodi background and can replace the default skin. Here are the most popular items. To understand your taste and style, you can consider these options and experiment with simpler skins.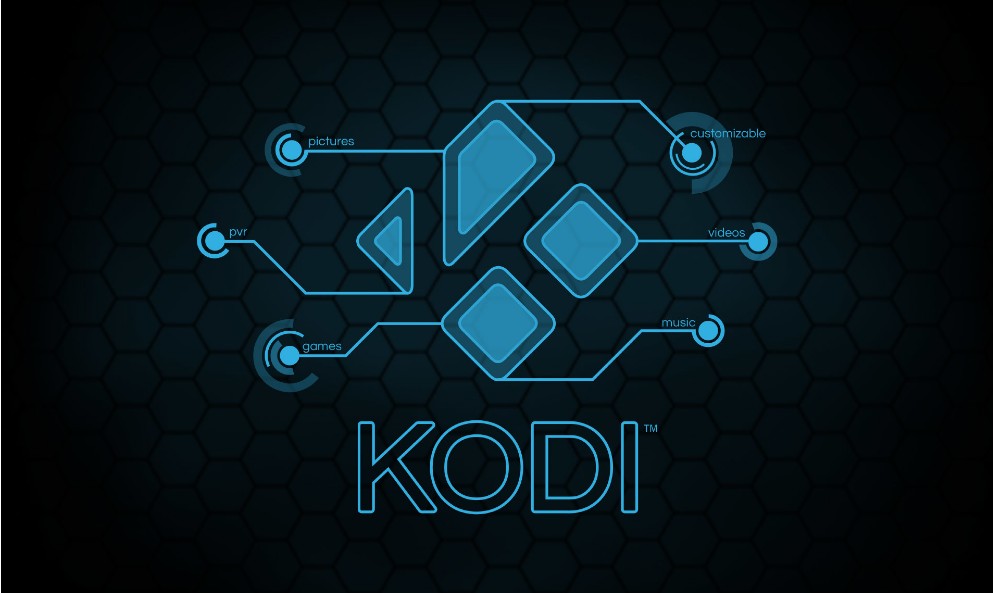 Aeon Nox
The most well-known Kodi skin is Aeon Nox. It can be said that the flow extension includes the most standard parameters. It can configure skin options and doesn't take up much space on your computer's memory. Besides, all the devices support it. The key features of this Kodi skin are easiness to use and a rare combination of beauty.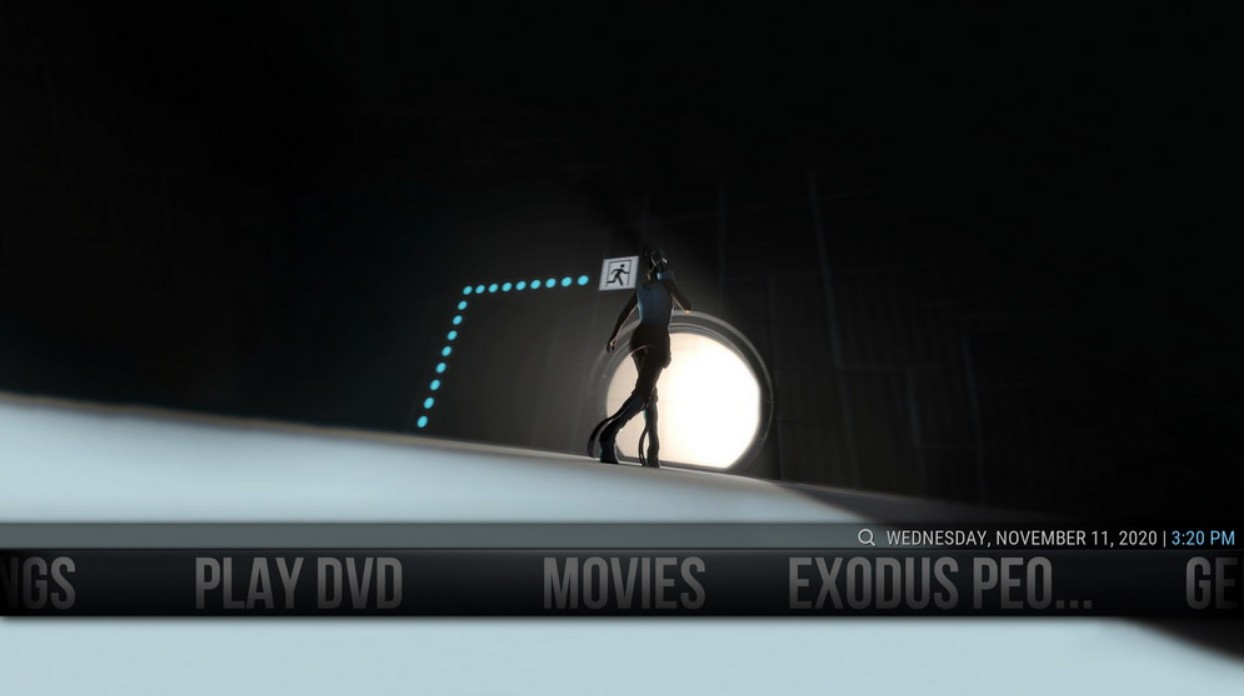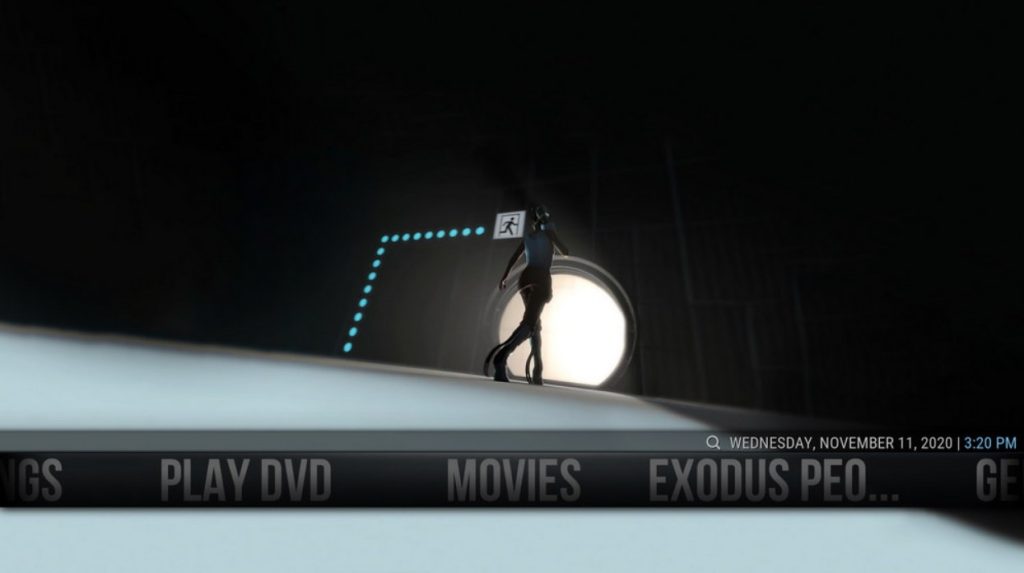 Black Glass Nova
If you're meant to make your Kodi interface sleek and modern, we can recommend Black Glass Nova. In addition, this kind of skin is full of home items skin widgets, which add convenience and easy orientation to the program.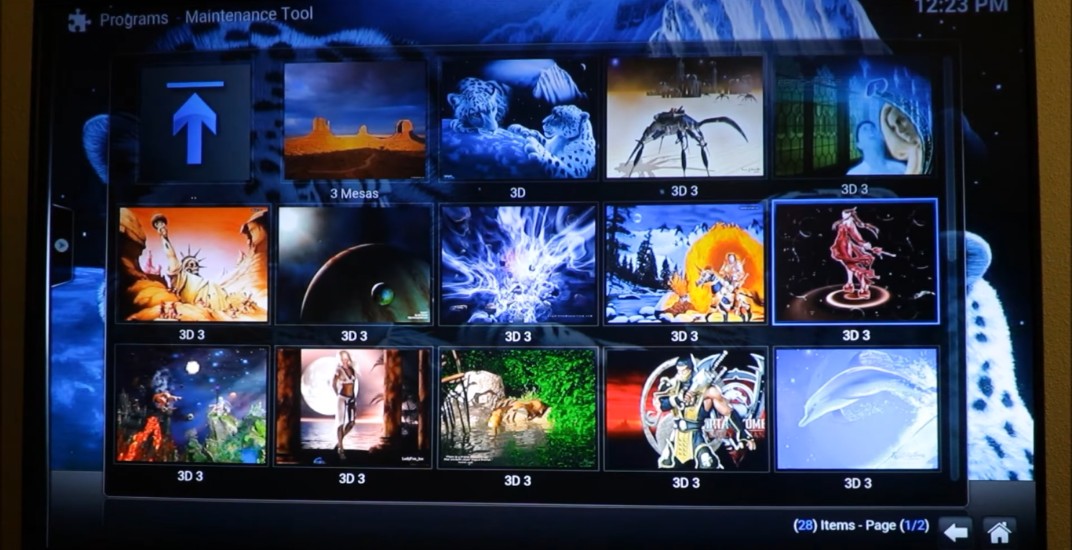 Black Glass Nova lets you custom home menu with a lot of fan art and Movies, Concerts, Clips, and Music widgets which provide a quick launch list for the last 20 recently added items, recommended/recently viewed items, random items from your library, or your favorites.
Black Glass Nova is one of the skins that is constantly updated. It is filled with a large number of features that will impress any user.
For example, if you want to avoid putting a specific image on the background, the "Actual Weather Condition" widget changes Kodi with a custom home menu and adds more colors to the Kodi skin. The opportunity of a clear logo is also included in key features of rich skin.
Refocus
Key features of Refocus are a Custom home shelf, Artwork Downloader Touch Support, and Skin Widgets including Weather Widget, Picture Slideshow Widget, Customizable Main Menu, and much more. The skin has been designed with a focus on simplicity and functionality.
Mimic
It is a fast and bright way to improve your Kodi background. This Kodi skin is best controlled with a wireless keyboard or a remote app. Mimic is available in different colors that let you configure skin option in your interest.
Amber
This Kodi skin provides a horizontal ribbon-styled main menu by default, with main categories and sub-categories visible. The main menu may be as horizontal or vertical. Each menu has a background wallpaper that you can customize to your liking.
Less popular but also noteworthy skins
We have already considered popular well-known examples of Kodi skins, but you should know that it's not the end. The choice of Kodi skins is wide enough to make every person find the most suitable one for a user. We give you some examples below.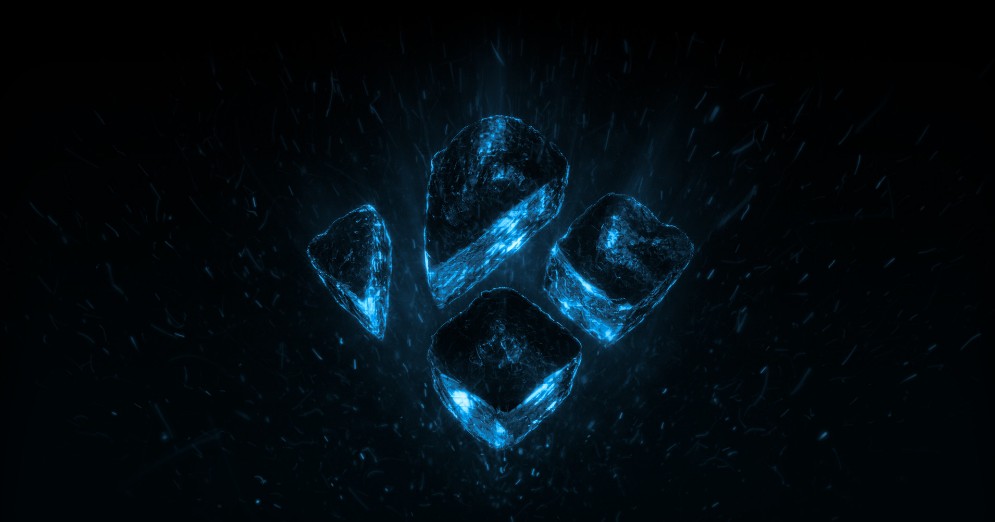 Bello
Bello is a minimal Kodi skin, which is suitable for 18 and 19 versions of the program. In case you are looking for an interface that is user-friendly and easy on your system resources, it can become the best decision for your device. In addition, this Kodi skin is suited for touch and remote-controlled devices because of the large mouse-not-allowed pointer.
Aura
The features of this Kodi skin are a tile-based design. It makes it visually appealing and also highly functional. The home menu items are placed horizontally on the top and the related categories, widgets, and other submenu options are displayed on the rest of the screen in a tiled format.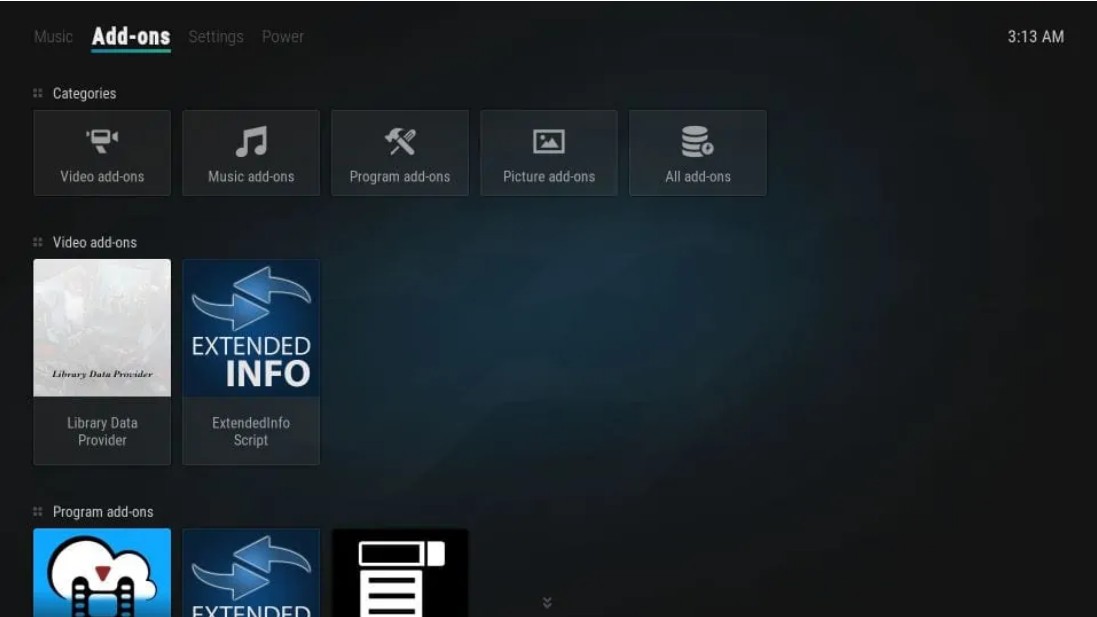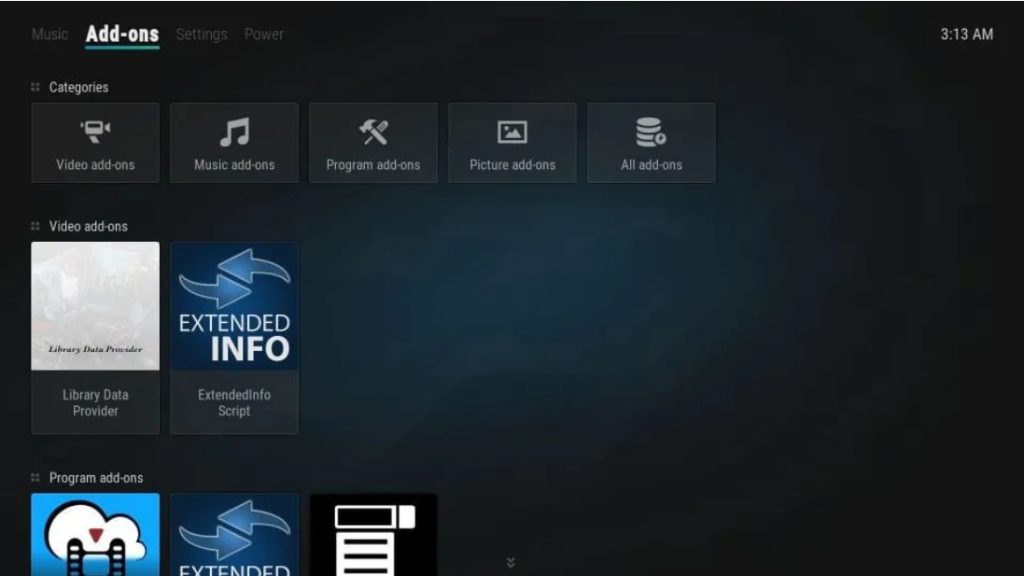 There are a lot of choices of custom backgrounds, many effects, and colors to use too. Change Kodi in a very convenient and functional rich way.
Box
The Box is another convenient, compact Kodi skin. A panel-based design with an organized layout adds a professional look and a futuristic appeal.
In addition to the default categories, you can add categories from the skin settings. It accesses utility options like Add-ons, Settings, Pictures, Favorites, Customize, etc.
This skin lets a video play in the background. This is indeed a very spectacular feature that you can surprise your family and friends.
FTV
It is an extremely minimalistic skin that doesn't even have a display date and time on its home screen. A key feature of the skin is a vertical menu bar on the left which emphasizes the selected items and fades out the rest. This skin is ideal for lovers of minimalism.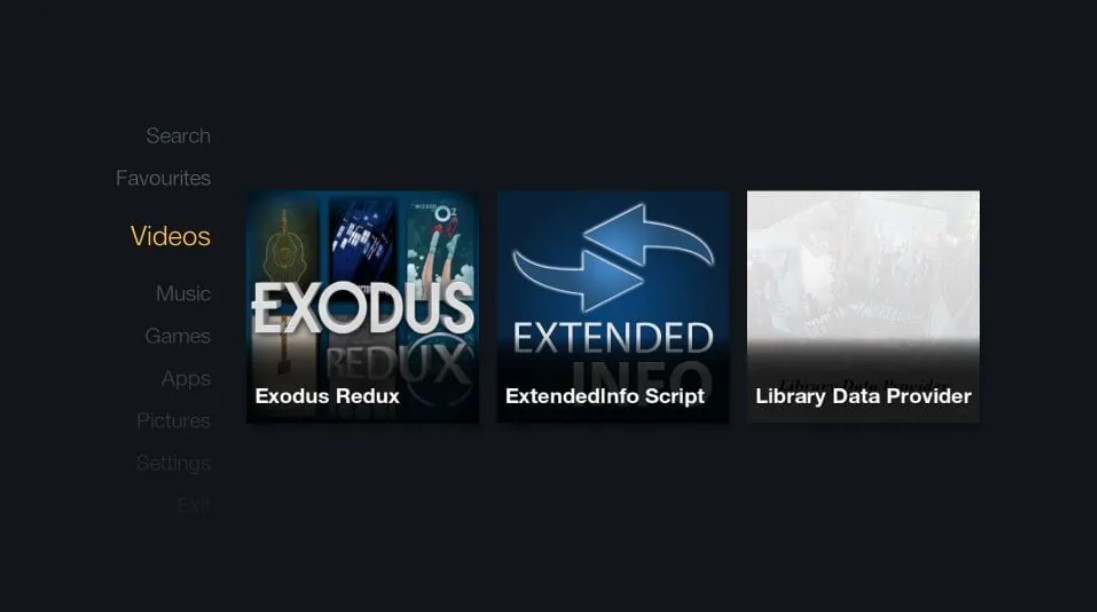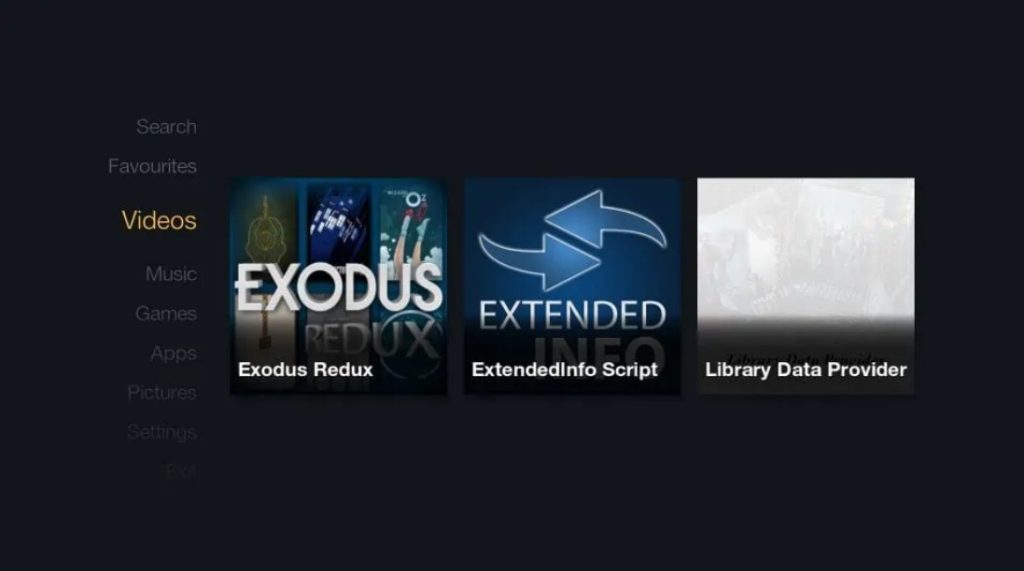 The settings don't have plenty of color choices and customization options. You can add or remove menu items and related widgets. The custom background is not available.
Quartz
This skin can be called special. It may seem unfinished at first, but this skin can be the personification of you, as it leaves you with a lot of room for customization.
If you're an advanced Kodi user and customizing it, you might like Quartz. Menu items are limited, but you should go to Settings and start creating submenu items from the Kodi menu. You can add your background art/photo from local storage.
Revolve
If you decided to try the Revolve, you see the unique Kodi skin. As it is clear from the name, it is a disk around the axis of which various interface elements rotate. This special adds dynamics and interactivity to the program as in a computer game.
On the home screen, you can watch the revolving menu items. You may include new items or remove the existing ones from the settings.
This skin has a lot of additional features. You can change the display of the background, darken it to highlight the menu or play the video there. The program's color theme is also user-selectable, as is the image for each element.
Unity
Unity doesn't have huge animations or shiny stuff, but it has menus in horizontal rectangular boxes. Simple yet effective design coupled with a user-friendly approach.
The skin also allows you to customize the background, and add up to additions to the categories. Unity doesn't get many options for advanced customization. The developers of this skin have already done most of the work for you. The Unity skin offers amazingly smooth transitions between your actions.
In other words, if you like an interesting design with a rich user interface and ease of use, then you will like this offer.
To learn more about the 15 best Kodi Skins to change, read this post here.
FAQ
We are ready to answer any questions related to the themes "change Kodi background" or "change the Kodi skins".
How do I make my background change?
You can customize your preset background with a single desired picture or create a multi-image background with feature-rich skin settings.
Change the Kodi skins to make a custom background or custom home shelf of Kodi and continue to enjoy your spending time. Kodi skin is full of different key features, for example, a clear logo, clear art, a variety of skin widgets, and others.
Where are background images stored on Kodi?
Background pictures are stored on your device. Enter user data/addon_data/<skin name>/backgrounds (or maybe it's addons/<skin name>).
Result
This article aimed to show how to change Kodi background wallpaper. So now you watch a lot of opportunities to change Kodi and notice that Kodi is full of features and customization options.
You can choose your way to customize the program – change the image on the background, set multiple images on the background, or download and install a beautiful and conveniently designed Kodi skin. These actions can help you to show yourself and improve Kodi as you like.
Change the background on Kodi and select the personal Kodi skin. I hope this article was useful for you!
If you need to read about how to add Specto fork to Kodi, please read our article.